Packing and Despatch
Packing crate
The packing and despatch of completed motorcycles was carried out in a department separate from the factory, on the other side of Burrage Grove.
The bikes would be taken down in the lift from the Assembly department, after they had been tested and any minor faults rectified, and wheeled over to the packing department.
The next stage would depend on the eventual destination of each machine.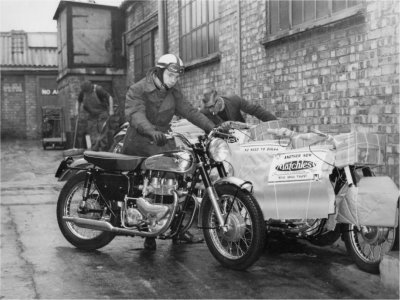 Matchless G12s being packaged for home market
According to ex-tester, Brian Slark, bikes destined for the home market 'would be saddled with pressboard panels and yards and yards of corrugated paper and hairy string.
The only uncovered parts were the lower halves of the wheels and tyres, so that a bike could be wheeled around for delivery by rail to the dealer who had purchased it.'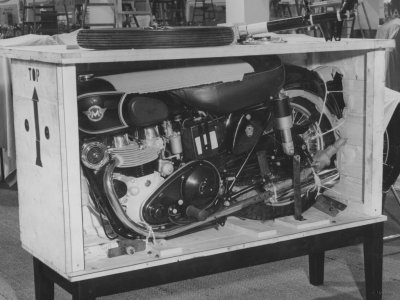 Partly dismantled machine crated-up for export market
'If it was an export model, the front wheels, controls, footrests, and other parts were removed, and the disassembled bike crated up.'
Brian Slark 'Working for AMC' - Classic Bike magazine July 1988
At height of the post-war production period, 75% of the bikes manufactured at AMC were destined for the export market, leaving the home country motorcyclists having to wait long periods before taking delivery of a new model.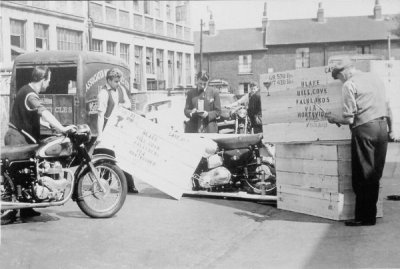 Packing operation in Burrage Grove
Batch of AJS 18s bikes ready for shipment
to Sarawak police (c.1953)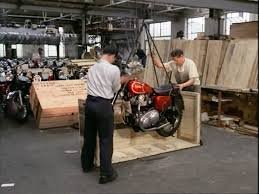 Matchless G15CSR being packed
for export to America (1964)
Click image to view video (Windows Media Player)
OR click here for YouTube version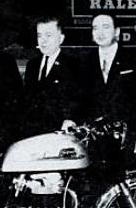 Joseph and Michael Berliner
at the Earl's Court Show
Feb 1965
America was by far the largest export market region for AMC's higher capacity machines, with the majority of sales being via the Berliner Motor Corporation, originally based in New York City but later relocated to New Jersey.
From the 1950s, this US distributor had already acted for several European motorcycle marques, including Ducati, J-Be, Moto Guzzi, Sachs and Zundapp, before becoming sole agent for Norton in 1961 and for Matchless in 1963.
The two Beliner brothers, Joseph and Michael, were highly influential as the voice of the huge American market to the companies that they bought bikes from, and their suggestions (and sometimes forceful demands) guided the decisions of manufactures like AMC as to which bikes to develop, produce, or discontinue.
The Norton Electra, Atlas, Scrambler and P11 models, typically featuring high rise handlebars, were all successfully promoted by Berliner Motors and were sold with various degrees of success.