Map and Plans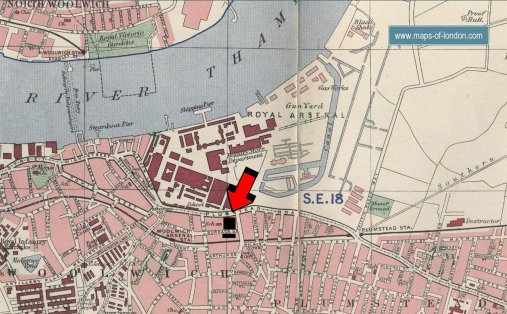 Old map of Woolwich showing factory location
The Woolwich factory of Associated Motor Cycles Ltd was situated in the South East outskirts of London, close to an area occupied since the start of the 18th century by the Royal Arsenal.
With its offices facing directly onto Plumstead Road, and occupying most of the space between that and Burrage Grove, it was an impressive building in an otherwise residential and retail area that stood four stories high, plus a small group of roof shops.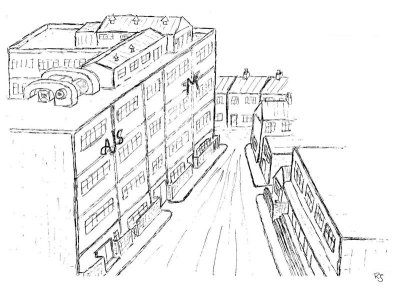 Sketch of AMC factory looking East down Burrage Grove
with Spares and Service building on near right
A lift at the Maxey Road end of the factory connected all floors and, as well as allowing materials to be moved between floor levels, was also the means of taking finished motor cycles from the second floor assembly area down to street level for their road test.
Entrances to the works were at the rear of factory, off Burrage Grove and, on the other side of this road, were separately situated the Service, Despatch, Spares, Packaging departments as well as the highly-revered Race Shop.

The factory floor layouts above are based on the collective recollections of those who worked there at the time (c. 1960).
They are not to scale, and departments were re-located from time-to-time over the years.
Please view individual 'Department Location' plans on their respective pages for more information.
(Acknowledgement of original drawings by G E Josey)
Front offices (Plumstead Road)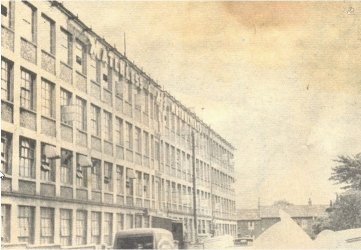 Rear of Factory (Burrage Grove East)
Rear of AMC Factory as seen from Maxey Road, with the neighbouring Woolwich Arsenal buildings visible above its top floor.
(Courtesy Greenwich Heritage Centre)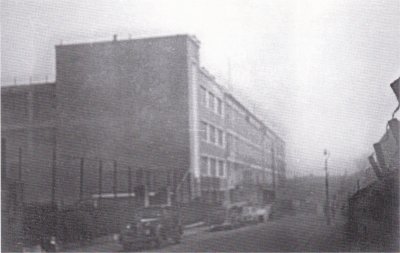 Another view of factory in typical London 'smog' (1956)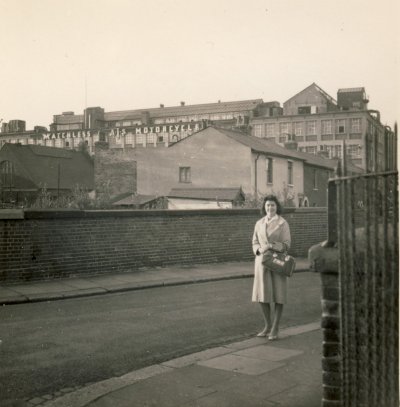 View of factory from railway bridge in Maxey Road
Sylvia (?) walking home from work
Housing redevelopment on factory site