Assembly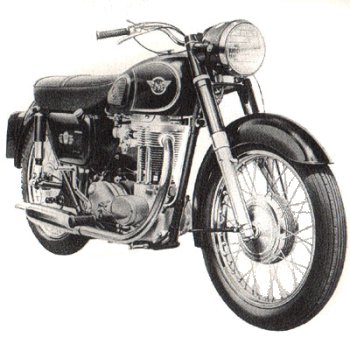 1959 Matchless G3LS
The image that first springs to most peoples' minds when thinking about automotive factories is one of streams of vehicles pouring off the end of a production line at a rate of several per minute.
That might be reasonably true of some mass-produced car plants today, but back in the '60s, motorcycle assembly at AMC was not quite that hectic.
It might also be a surprise to realise quite how little of the overall factory's floor area was taken up by the assembly operation, about 15% at the Plumstead firm (though that might not have been typical throughout the industry as AMC did manufacture a higher proportion of its parts in-house than most other marques).
Even that relatively small area was not concentrated in one particular place in the factory, with the engine and gearboxes being built in opposite corners of the third floor and the main assembly taking place at the Maxey Road end of the second floor (near to the lift).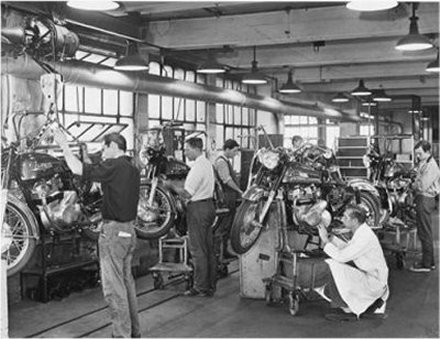 Main assembly line - building Norton Electras (c. 1963)
As the photographs show, each motorcycle was built on a small wheeled trolley that ran on a narrow-gauge railway track set into the floor which travelled around the outside walls of the area and terminated near the lift shaft.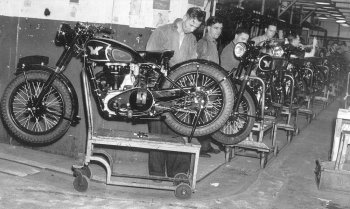 Assembly trolleys c.1950s
At each build station along the track, storage benches would be positioned, pre-loaded with the appropriate components at that stage for whatever model was being assembled at the time and, once fitted, the trolleys were moved by hand to the next build station by the assembly staff.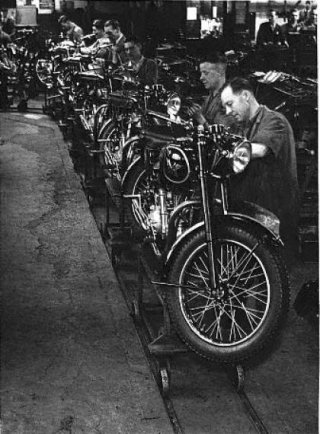 Main assembly track (1946)
Engines and gearboxes would have already been assembled and delivered from their respective departments, and other major components like wheels and front forks would be built-up in areas adjacent to the track, to be incorporated as sub-assemblies into the final machines.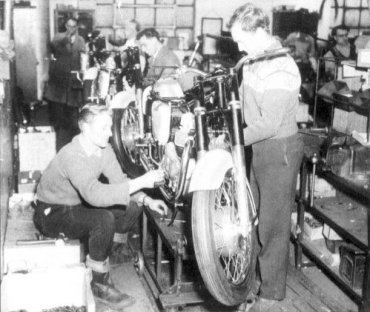 Main assembly track (c.1966)
When each bike was completed, it would be lifted from its trolley by an electric hoist and placed onto its wheels and be filled with petrol and oil. At this stage a dummy petrol tank (made from the body of a trials toolbox) would sometimes be bolted transversely across the top tube, in pace of the normal one, to avoid any damage to its finish during testing.
The machine would then be wheeled into in the "run-up" area at the side of the lift to be started for the first time.
Each bike would be taken down in the lift to ground floor level by one of the many testers and driven around the local area for a road test of at least 12 miles, irrespective of the weather.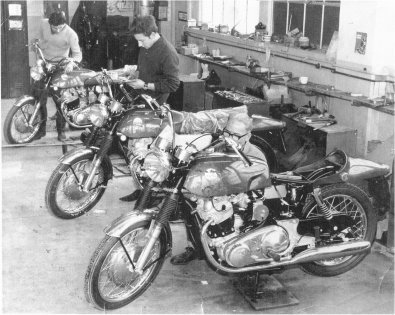 Rectifier team working on Commando bikes (c.1968)
Following its return, the machine would be either approved for dispatch or returned to an area of the assembly shop where any corrective work was carried out by a one of a specialist team of "rectifiers" or, if the fault was of a trivial nature, by the tester himself.
As an example of the type of work carried out in the Rectification Department, ex-apprentice Keith Jackson recalls that, during his period of training there, he helped out in the correction of noisy timing gears on the range of small capacity Norton twins (Jubilee, Navigator and Electra models).
These bikes had timing drives consisting of several spur gears on fixed centres, the dimensions of which were all subject to plus and minus limits.
Cutaway drawing of Norton l/w engine
showing timing gear train

Although each component was made to the tightest possible tolerances, it was inevitable that occasionally the situation would arise where all the gears on one particular engine were on bottom limit, whilst mounted on shafts at top limit centre distances, resulting in a rattle on tick over.


When reported by the testers, these bikes would be handed over to the rectifiers who, according to Keith, "had a stock of all these gears and simply removed the timing covers, found the gears with excessive tooth play and then swapped gears around to find a best fit to quieten them down".




Some jobs were not quite so straightforward though, as Keith recalls working on the Electra model whose frames had the addition of a welded plate structure on their inner sides to make them strong enough for their 400cc engines.
"Removing cylinder heads or barrels on that model was impossible until all the frame bracing places were removed" says Keith, "Not an easy task!"




When the bikes were acceptable, they would be cleaned, have their decals attached and moved across the street to the packing shop.
Batch of Commando Fastbacks ready for despatch in Burrage Grove c.1968)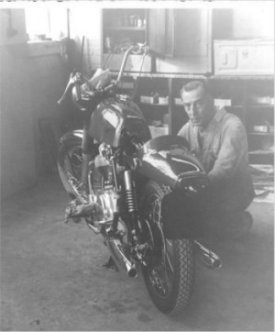 Johnny Penfold putting finishing
touches to a Commando bike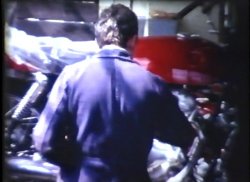 Commando assembly video clip (18 sec)
You can view a very short video clip of Commando assembly (featuring Johnny Penfold and Jimmy King) by clicking on the adjacent image.
---
More information on the work of specialists in this department can be found on Cover Pages.
(see also names highlighted in the personnel list for their Cover Page stories)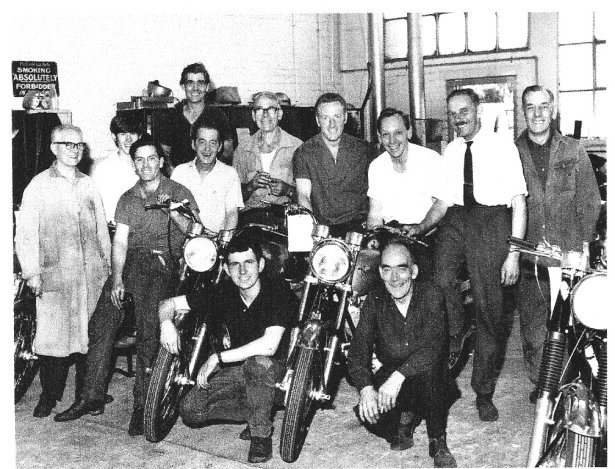 Main assembly department employees - including several testers
(hover cursor over faces to identify)
| | | |
| --- | --- | --- |
| Alf Akenhead | | |
| Joe Allen | | Rectifiers-foreman |
| Bert Bennett | | Wheel builder |
| Ted Bennett | | Forks |
| Jeff Boult | | |
| John Brenchley | | Engine to frame |
| Ken Bryant | | Commando |
| Albert Bull | | Rear wheel, chain, mudguard |
| Chris Callegari | | End-of-line |
| John Carnell | | |
| Bill Carpenter | | Oil & petrol tanks |
| Bill Chapman | | 2nd I/C |
| Dennis Coglan | | Tyres |
| Brian Colgate | | |
| Ken Conie | | |
| John Ewings | | |
| John Gardiner | | End-of-line |
| Ken Goddard | | Forks |
| Alf Greyland | | End-of-line |
| Steve Hamer | | Runner up |
| Tim Hipkin | | |
| Archie Ilsley | | Manager |
| Tom Jolly | | |
| Roger Ketley | | |
| Jimmy King | | Rectifiers-engine |
| Bill Merritt | | Front wheel & mudguard |
| Harry Moore | | Wheel builder |
| Arthur Newson | | |
| Doug Nichols | | Handlebars |
| Pat O'Leary | 1920 - 48+ | Wheel builder |
| Peter Pawson | | |
| John Penfold | | Finish polish & transfers etc. |
| Eric Pratt | | |
| Len Rodda | | Rectifiers-engine |
| Len (Alfred Gilbert) Selfe | 1939 -69 | |
| Alf Simmons | | |
| Bob Smith | | Rectifiers-engine |
| E (Tiger) Smith | | Wheels |
| Bill Stubbs | | |
| Norman Surtees | | |
| Trevor Thomas | | |
| Harry Tombs | 1918 - 48+ | Tyre fitter |
| Allan Tyrrell | 1966 - 69 | |
| John Walker | | Silencers |
| Bob Walpole | | |
| Sid Werner | | Rectifiers |
| Barry Whittley | | Runner up |
| Harry Winch | | Runner up |
| | | |
| --- | --- | --- |
| Vic Bates | | |
| Colin Bennett | | Runner up |
| Roy East | | |
| Roy Gilbert | | Engine builder |
| Ron Harold | | |
| Bob Hutchings | | |
| Fred Neill | | Foreman |
| Gordon Pennington | | |
| Eric Porter | | Foreman |
| Tom Potter | | Foreman (Engine & gearbox shops) |
| Jack Pringall | | |
| Bob Regan | | |
| Pat Smith | | Engine Rectifier |
| Bill Stroud | | Engine Rectifier |
| Norman Surtees | | |
| Mike Wicks | | |
| | | |
| --- | --- | --- |
| Nobby Clarke | | Chargehand |
| Norman Crew | | |
| ? Lawrence | | |
| Jack Perkins | | Manager (+ Two Stroke Shop) |
| Tom Potter | | Foreman (Engine & gearbox shops) |
| Sam Truscott | | |