Design/Drawing Offices
Drawing board with drafting machine
The Design (or Drawing) Office was located on the first floor of the front office section, having access at one end via the Plumstead Road entrance by both stairs and a small lift, as well as being linked to the factory at the other end by another staircase.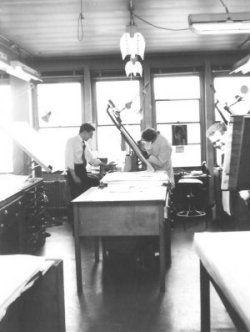 Design office, looking to West side (c.1965)
(hover cursor over faces to identify)
The design staff worked in a large, well-lit room having almost continuous windows on two sides (although not exactly giving picturesque views).
On each side of a central gangway that ran the length of the office were arranged the 'pitches' of around seven draughtsmen (comprising drawing board on stand fitted with articulated drafting machine and several plan chests/working surfaces).
At one end, occupying a separate enclosed area, was the print room where copies of the draughtsman's tracings would be reproduced on a large ammonia printing and developing machine, for use throughout the factory.
Across the room sat the tracer at her (it was always a girl!) large light table, her job being to produce ink copies onto special linen sheets of any of the tracing paper drawings that were becoming damaged or deemed extra important.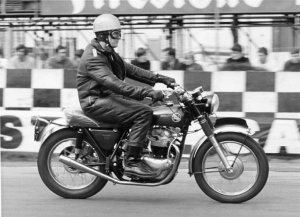 Tony Denniss on P11-A at Brands Hatch (1967)
The office manager had a partitioned-off office at the far end from the tracer, which he occupied along with his secretary.
Tony Denniss took over this role from Horace Watson in the early '60s and one of his main functions was to allocate work to the draughtsmen and see that it was carried out satisfactorily and to the required time-scale.
A usual part of office procedure was that, before any of a draughtsman's new drawings were issued to the factory for manufacture, the whole project would be completely checked over by one of his colleagues (whether more or less experienced than himself). This was to ensure that any mistakes were picked up and corrected before parts were made in production quantities.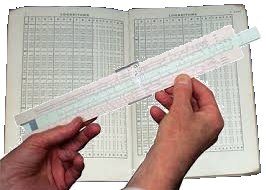 Slide rule and log tables
It is to be remembered that this was a time before computers, or even electronic calculators, so all 'number crunching' was carried out on slide rules or, if more accuracy were needed, by the laborious use of 6-figure logarithm tables.
All these calculations would be recorded in note books so that they could be referred back to at a later date if required. Because of the three-dimensional, ergonomic forms of motor cycles, some of the number work would be quite demanding and would tax the brain of modern day design staff brought-up on CAD programs that do the majority of the mathematics for them automatically.
The draughtsmen all had their own specialities and expertise; work involving gears would have been handled by one whilst anything to do with frames might be given to another. Usually, any drawing work needed by the race shop would also have been handled by one particular person assigned to the role.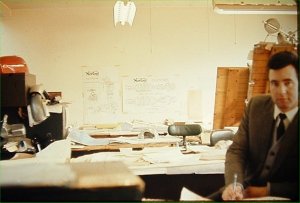 Drawing office, looking along East side (c.1968)
Trevor Denman in foreground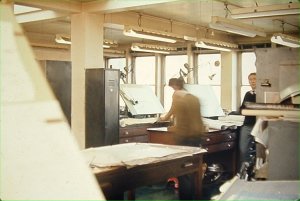 Drawing office, looking to West side (c.1968)
(hover cursor over faces to identify)
Another key member of the staff was the drawing office clerk, who was responsible for the maintenance of the parts schedules. These were large books where every part used on a particular model of bike was recorded for the use of all other departments, and had to be kept up-dated after every change made by the draughtsmen and then re-issued.
He was also officially in charge of the print room function, as regards day-to -day maintenance of the print machine and keeping stock of the special light-sensitive paper up to the required level, and was also the guardian of the office's sets of special drawing tools that the draughtsmen needed from time to time, for drawing extra large radii curves, etc.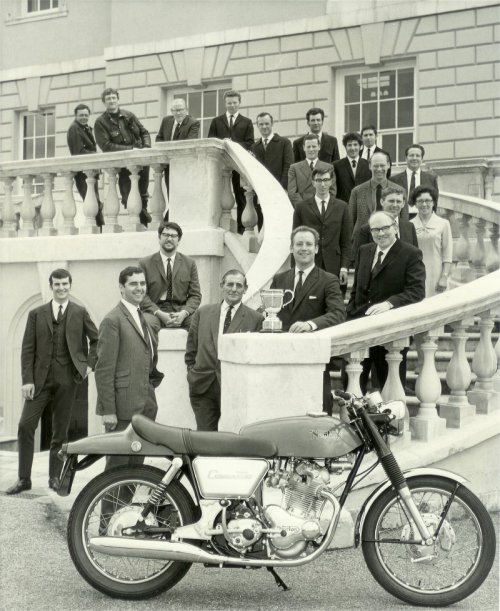 Commando design award team at Greenwich Maritime Museum - July 1968
(hover cursor over faces to identify)
Click here for other pictures taken at Greenwich Maritime Museum photo shoot
---
The Chief Designer and Chief Engineer occupied a separate room on the ground floor, tucked away under the stairs that led up to the Design Office.
This office was where the new concepts were devised and developed, leaving the main Drawing Office to translate the proposals into detailed drawings and specifications for eventual production.
A draughtsman would occasionally be seconded from the main office to work with these senior personnel if the work was considered to be of a confidential nature in the early stages of a development.
Charles Udall on prototype Velocette LE
(Courtesy LE Velocette Club)
Occupants of the purposely discrete Design Office, in the latter days of AMC, have included:
Phil Walker - ex AJS designer of the 7R racer.
Horace Watson - ex Triumph and former manager of the AMC Drawing Office.
Charles Udall - ex Velocette and designer of the innovative sheet-metal framed Velocette-LE (aka Police 'Noddy Bike').
This cross-fertilisation of senior designers was something accepted as quite normal throughout the British motor cycle industry at the time in question.
| | | |
| --- | --- | --- |
| Mike Anderson | | |
| Doug Anderson | | |
| Les (Hermie) Apps | 1967-69 | Ex-apprentice / Draughtsman |
| Peter Attwood | 1966-69 | Ex-apprentice / Draughtsman |
| W Baker | | |
| P Bourne | | |
| Jacqueline Breedlove | | Secretary |
| Eddie Bruce | | |
| Bill Cakebread | 1963-66 | Ex-apprentice / Draughtsman |
| Bob Cakebread | 1967-69 | Ex-apprentice / Draughtsman |
| Vi Carson | ? - 1969 | Print room clerk |
| John Clark | 1952 - ? | 7R3 racer d.1958 ex Douglas |
| Bert (H V) Colver(Jr) | 1928-36 | (son of Bert Culver Sn) |
| Eric Crouch | | Draughtsman |
| Alan (Snake Hips) Deakin | | |
| Trevor Denman | 1964-69 | Ex-apprentice / Draughtsman |
| Tony Denniss | 1956-69 | Manager / Later at Norton Shenstone |
| Mrs Donovan | | Tracer |
| Martin Donovan | | Chief draughtsman / Clerk |
| Mike Duff | | Racer |
| Margaret Farley | | Secretary (to Tony Denniss) |
| John Favill | | |
| Marjorie Gillman | 1960 - ? | Tracer |
| Chris Grace | | Ex-apprentice / Draughtsman |
| Bill Green | | Draughtsman |
| Gerry Hartnell | | Clerk (ex repair shop |
| Mary Heffernan | | Tracer |
| P M Hills | | Secretary |
| Edward (Ned) Hooker | | Ex-apprentice / Draughtsman |
| Bernard Hooper | | Chief designer-Commando |
| Roger Jordan | 1967-68 | Commando sec. from NV |
| Geoff Josey | 1963-65 | Draughtsman ex.Rolls Royce |
| Robert Kay | | |
| Linda Ludgrove | ? - 1969 | Tracer |
| John Martin | 1965-69 | Draughtsman (ex police) |
| Charlie Matthews | ? - 1969 | Clerk (ex. race shop) |
| Frank Perris | | Racer |
| John Rowlan/Rowlands | | (ex. assembly tester) |
| Howard Seaton | | Draughtsman |
| Alan Sheath | | Draughtsman (racing) |
| Charlie Smith | | |
| Bob Trigg | | Development Engineer-Commando |
| Charles Udall | | Chief Designer / Engineering Director (ex.Velocette) |
| Phil Walker | | ex. AJS (designer of 7R) |
| Ray Warren | | Draughtsman (gearboxes) |
| Horace Watson | | Dev. Design Manager (ex.Triumph) |
| Terry Wetherfield | ? - 1969 | Ex-apprentice / Draughtsman |
| Vic Webb | 1941 - ? | Racing |
| Peter Williams | | Draughtsman (son of Jack Williams) |
| | | |